How Optimized is your LinkedIn Profile?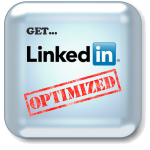 We offer several options to optimize you online!
Personal LinkedIn Optimization  – A personal profile is your professional identity, your personal brand. Whether you're looking for your dream job, or you're a business owner, we will craft your profile to Optimize YOUR potential.
Business LinkedIn Optimization – A personal profile and Company Pages are two different things! We assist the entrepreneur, solopreneur or small business owner by creating/enhancing the Company Pages to drive business sales in order to maximize YOUR potential.
Personal and Business LinkedIn Optimization Package – This is the most popular option for small business owners as it gives you optimizing of both your personal LinkedIn Profile and your Company Pages.
DISCLAIMER: Manifestability Inc. is not affiliated, aligned, or partnered with LinkedIn Corporation in any manner. Shannon O'Keeffe is not an employee of LinkedIn Corporation. The material, products, services or training represented herein are not endorsed by LinkedIn Corporation.